One real estate broker and coach knows where to find the best industry information he reads Inman Select
One real estate broker and coach knows where to find the best industry information he reads Inman Select
Since I have been an Inman Select member, I have gained more and more knowledge about the real estate industry
a quick email:Share via emailFrom:To:Subject:Interesting article:Body:I found this article and thought you…You successfully shared the article.Close
Inman Select was launched to providereal estate agentsandbrokerswith a reliable, specific source for the news and information they need to thrive in the real estate industry. And its helped hundreds of real estate professionalsidentify areas for improvement,plan and execute changeand stay on top of rapid industry shifts aslegal issues,technological advancements,and consumer sentimentchanges how business is done.
Were sharing the stories of real estate agents and brokers who read Inman Select and use it every day to improve their businesses. Heres what they know that you might not.
(Are you an Inman Select subscriber whos interested in sharing how it supports your business? Emailfor the opportunity to be featured in upcoming Select Sound Bites).

Loren Coburn is areal estate brokerand coach in Norman, Oklahoma. Hes worked as anagent, brokerand coach in his career, thriving in all three roles.Coburn has been an Inman Select subscriber for three years.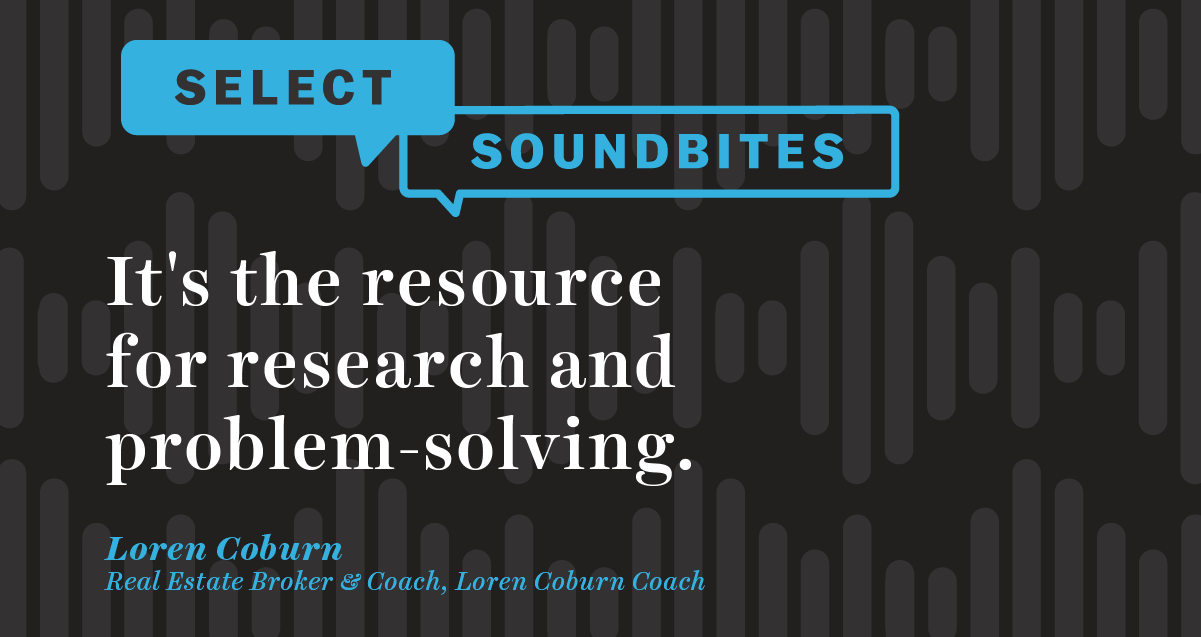 3 strategies to cut through the noise and build a lasting business
Why shiny and new doesnt always mean smarter and better
What is your greatest accomplishment in real estate?
Some of my career highlights include being atop producer, serving as MLS President for my localMLS, and Im now using my experience to coach professional Realtors and brokers.
Since I have been an Inman Select member, I have gained more and more knowledge about the real estate industry.
Inman Select is a resource that keeps us informed and I tell agents and brokers about subscribing all the time.
Im someone whos going to find the answers to my questions and followthe best research about my industry. Inman provides that for me now, and I know that Select has helped me. Without it, I would find another way of moving forward and learning.
Do you want to take your business to the next level?Subscribe to Inman Select today!

Want to connect with Loren? You can find himonlineFacebookTwitter, andLinkedIn. EmailShawna Strayhorn,Director of Subscriber Growth, to share your Select Sound Bite!
Keller Williams reveals tech acquisition spree in first quarter 2019 earnings
Amazons $7K, do-it-yourself tiny home goes viral, sells out instantly
WATCH: President Trump addresses the National Association of Realtors
3 strategies to cut through the noise and build a lasting business
6 tips for creating video that todays consumers will actually watch
President Trump announces end to steel tariffs, attacks Dems at NAR conference
What you need to know to start your day with all the latest industry developments
Thank you for subscribing to Morning Headlines.
Access to all Inman content, discounted Connect tickets, exclusive videos and more
Connect The Sessions: The New ICSF Teams Track
How a coach and former top producer uses Inman Select to educate her team (and herself)
Keeping up in a hot market can be difficult, but this associate broker is doing it with Inman Select
Is your real estate brand in desperate need of a revamp?
How one founder and CEO uses Inman Select to help identify industry gaps and needs
Inman Selects trend reports and special reports are key to strategic planning
Inman Select shows my team what were not doing and what we should be doing