Offering the best bloodlines of the breed, new and old.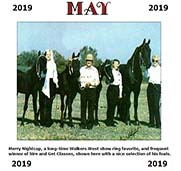 At Walkers West, we are privileged to offer some of the most beautiful horses of the breed. Pick a color. Pick a size. Pick a gender or a bloodline. If we dont have it, we can probably find it for you. Overseas transport arrangements available.
We have good quality Tennessee Walking, Racking, and
Let us help you sell your Tennessee Walking Horse….call for details…..
Walkers West has moved onto the net exclusively. We have increased the cyber-barn to 130+ stalls.
the horses on the sales list are also in the cyber-barn. Click
to contact Walkers West about renting a cyber-stall in the new cyber-barn.
WALKERS WEST also hastack and equipment for saleCheck it out.
No matter what kind of advertising you do, there is nothing that beats the words of satisfied customers.

Twenty-one years in the making so far, this gallery consists of 4,000 vintage photos of Tennessee Walking Horses of the past – some were champions, some were famous producers, and some were favorite saddle horses.. If you have old photos of the breed and would like to share them with the rest of us, please send them along and we will link them back to your website.
Meet the Owner and Staff, and try out ourVirtual Barn Tour
Catch a glimpse of the ghosts ofMidnight SunandMerry Go Boyand other greats.
See dozens of old photos oflegendary champions
We haveColor ChartsandWorld Grand Championsand theTennessee Walking Horse Foundation Stud Book;
andHorse Properties for SaleandTack and Equipmentfor Sale andvideos;
QuizzesandBrain TeasersCalendarsCartoons, andJigsaw Puzzles.

Larry Edwards and HONORS2017 World Grand Champions,
What color is your horse under the new TWHBEA color code system?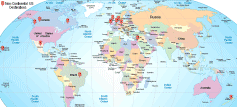 Click on the map to see international and non-continental US destinations.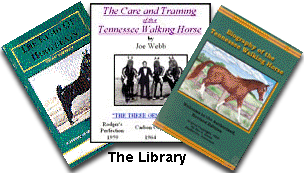 – For your convenience, we have gathered together a library of some of the best horse books available on the net. They cover all aspects of mans interaction with the horse, including breeding, training, horsemanship, making money with horses, and some of the most famous fiction ever written about our favorite subject – the horse! Enjoy!

A beautiful new foal by Paints Cotton – Lonestar Willie
Detailed how-to information on handling your foal, from birth to the winners circle.
New articles and photos will be added periodically.
Donations can be made via PayPal at the following link: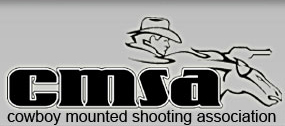 *******Tracy Pinson and her horse, Tuff are the new Extreme Cowboy World Champions! This is their second time winning this award. A big CONGRATS to one of the BEST TWH exhibitors in the world, Tracy Pinson!!!********
2013 Extreme Cowboy Race Non-Pro World Champions.
For anyone interested inA PICTORIAL HISTORYof the
We will be updating this section regularly. In it, you will findBullettsandBrooksTom Hal RacersCanadian PacersandNarragansett PacersMountain SlashersandTravellers, and even thePacing Pilots.
You will find historicalThoroughbredsStandardbredsMorgans, andAmerican Saddlebredsand all the others that combined in the Tennessee Walking horse breed. Lots of photos and videos.
Q. What very popular World Grand Champion and one of only 5 horses in the history of the Celebration to have received a perfect 10 first-place Judges votes, died on July 5th, 2007?
Do you know what all the different markings are called?